CHEESE AND WINE TASTING : A fun, surprising and original experience
• 2 h to learn about the world of cheese
• tasting a selection of 9/10 original cheeses craft and farmstead production only
• matched with 3 /4 wines for perfect pairings
• small group of 8 people maximum
And lots of historic and cultural anecdotes. An original activitie to learn and having fun.
Verified

Cheese and wine, yes please Geraud was very knowledgeable and explained the different types of cheeses and their history. We ended up having a private tasting for just our group. The companion wines were delicious and enhanced the flavors of the cheese. It was informative and delicious 😋
Verified

Amazing This was truly an experience. Geraud walked us through the history and chemistry of cheese, teaching us how to properly taste cheeses and pair them with wines. This was two hours of delicious cheese, wine, and education well spent.
Verified

wine and cheese tating We had a lovely evening with a knowledgeable and engaging host. All the cheeses and wines were delicious, Geraud had interesting stories, and shared lots of information about the history a process of cheese making. AND we were able to take the leftovers with us. Very much recommended.
Verified

Nice cheese and wine tour My wife and I did this tour Wednesday. We had maybe eight cheeses mostly from France or Switzerland. My wife loved all the cheeses but I'm more of a hard cheese guy but still found several I liked. All wines were from France and extremely delicious. The tour guide was knowledgeable and had a story behind each cheese and wine.
Verified

Vive le fromage ! Très belle expérience. Merci Géraud pour toutes ces explications et cette dégustation inoubliable avec la découverte de fromages que nous ne connaissions pas !
Verified

Fantastic! The cheese was amazing and the history lesson and crash course on cheese making was even better. Géraud is a wealth of knowledge and was the perfect host. Even if you cannot make it to try a tasting, definitely head to the shop for great cheeses, wines, and oils.
Verified

Cheese and wine tasting The most interesting experience I've had on the Island.Our family likes cheese, but until I did this tasting the other day I'll admit I didn't really know a whole lot about cheese, other than it was made of milk.We got the history of cheese and cheese making, and then tried 10 or so different cheeses, along with 4 or 5 different wines. By the end of the tasting we all knew what kinds/types of cheeses we each preferred, and we each felt like we were about to burst.The owner was super friendly, and speaks English better than he thinks he does. Definitely worth the time and money, but come hungry.
Verified

Delicious We had a wonderful time and tried so many cheeses. Geraud knows so much about cheesemaking and was full of funny anekdotes. We bought some wine and took the cheese we couldn't finish home, so we can have the perfect pic-nic.
Verified

"Life is great. Cheese makes it better." – Avery Aames A friend of us gave this cheese tasting as a present for my husband's birthday.During this evening we learned everything from the history and science of cheese to how to properly cut, serve and taste cheese and of course what wines best compliment the different kinds of cheese . We tasted 10 different cheeses, including France's most famous Comte (12 months & 24 months). Geraud is very knowledgeable and his presentation was really engaging. I can highly recommend.Leftovers were wrapped to take home, so the next day we had some more....
Verified

Fun and delicious Best experience in the island so far! Owner is very knowledgeable and friendly. You get a lot of great cheeses and wine for the $$. We had so much fun & learned a lot. Great selection of cheese. Must do!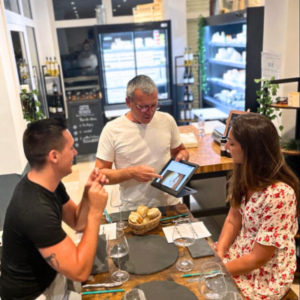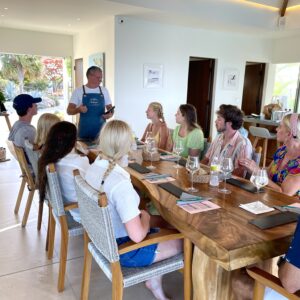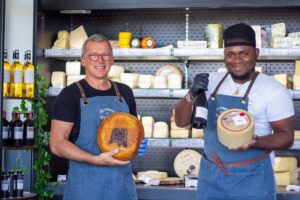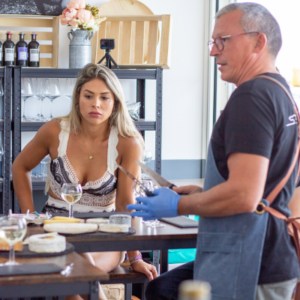 Discovery and tasting workshop : private session (villas, boats, yatchs...)
Private sessions can be organised in your villa, boat, yatch.
Informations and booking by
calling/whatsapp +590 690 28 26 27
email  hello@lecomptoirdesfromages.fr